Wheels Week 2011 Fund raising ride.
09.05.2011. Wheels week 2011 starts off with a Fund raising charity ride to support the Ashburton volunteer Fire brigade. If you looked at the weather on Saturday night, you would have left your helmet on the shelf and not even given it another thought about going riding on Sunday! But when we got up on Sunday morning, It was a totaly different story. The sun was trying to push through and it wasn't a bad day at all. As in passed years, motorcyclists from as far away as Dunedin, west coast, Christchurch and Timaru met up with Ashburton riders for a charity ride. This year was to support the Ashburton Volunteer Fire brigade purchase another defibrilator to carry on there fire engines. The Ashburton brigade is continualy getting called to more and more medical calls in support of the St John ambulance service and they now see this as another vital piece of there equipment. Meeting at the back of the station where we paid for our badge, we then set off to do the annual street parade and then for a ride down around the coast roads, winding our way back up to Ashburton. Arriving back at the station, the fireman had the fire roaring inside and the BBQ cooking up bangers and patties for us to enjoy. The support of prizes for  the raffles from the local community was absolutely outstanding and shows the high regard the fireman of the Ashburton brigade are held in. The raffle tickets were sold quick smart, and soon it was time to draw the prices. We can quite confidently say that it was a great ride that was enjoyed by all, and a great cause to support and as a bonus, alot of people went home with a raffle prize.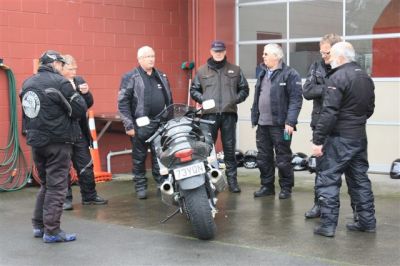 Thanks to Mequiars for being one of our supporters.
A huge table of prizes for the raffles.
Some of our prize winners