Akaroa Ride 2012
The way to start a new year is with a good ride !!
With nice summer nights and longer day light hours, its a good reason to have our longest ride to Akaroa. There was a small amount of cloud hanging around the coast, but by the time we got there for tea, the sun was shining up the habour and it was a nice night. A quick tea and then its back over the hill. The road was in good condition and on a Tuesday night, not alot of traffic. A regroup at Lincoln and then back home. 15 bikes enjoyed the ride.
Nice to see some new bikes on the ride. Terence with his new Aprilia.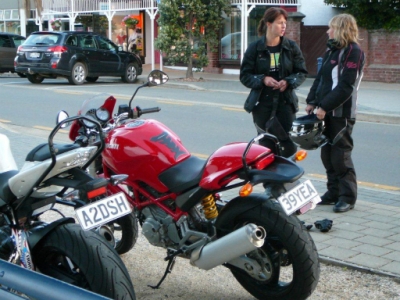 Marie with her new Ducati.