02.02.11 First Ride for 2011
It was great to get back on the bikes on Tuesday night!!
This was our first ride on a Tuesday night for 2011 and everyone was keen to get out for a ride. The weather was perfect, not to hot, not to cold. 22 bikes, some with pillions left the shop and headed for Geraldine where we regrouped and picked up another 5 bikes and riders. We headed inland towards Fairlie to the Skipton Bridge turning left and through the Totara Valley Gorge rd. A fantastic flowing country road past some stunning rock formation and farm land. Winding down through the zig zag and then out to Pleasant Point where we stopped for 5mins and another regroup. Then back on the bikes and over the Seven Sisters rd and back to Geraldine for tea. A slightly longer ride for a Tuesday night but we must make use of that day light saving extra hour!!!!
Many thanks to Ross, Lynda, Stu and John for pointing everyone in the right direction on those Country road corners. A very enjoyable ride had by all.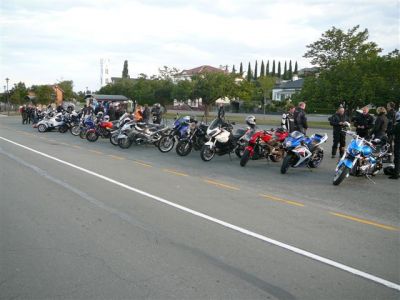 A 5min break and regroup in Pleasant Point.